I have always been a fan of Diane Von Furstenburg - I love the femininity of her clothes and her use of colours and prints. (Admittedly I first started keeping an eye out for her clothes when Whitney Eve Port started working in her offices in the programme 'The City.') Reading interviews with Diane also makes me fonder of her because she seems like such a down-to-earth woman who loves what she does. She made her name with the making of the iconic wrap dress in 1974 - "If you're trying to slip out without waking a sleeping man, zips are a nightmare."
Now DVF is collaborating with denim brand Current/Elliott to make fun and colourful pieces, with bright colours, prints and classic garments. Diane's love of prints is said to have come from her time spent in Como, Italy where she worked for a factory making Gucci and Salvatore Ferrgamo scarfs. Her new collaboration sees her love for print shine through. I love the designs but I have to say I will have to pluck up a bit of courage before I could wear some of the bolder prints!

Below are some pieces from the spring/summer 2012 collection called 'DVF Hearts CURRENT/ELLIOTT.
Image source: denimhunt.com
Image source: glam.co.uk

Image source: garmental.com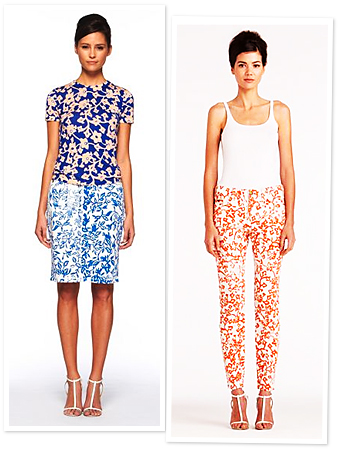 Image source: news.instyle.com